1 of 7
2 of 7
3 of 7
4 of 7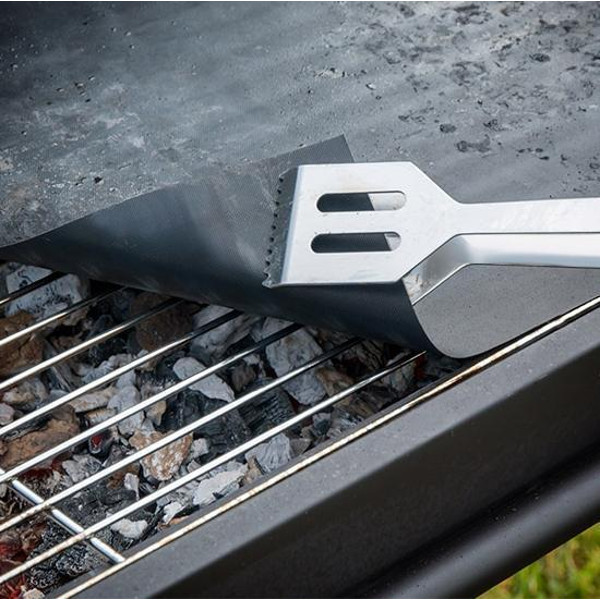 5 of 7
6 of 7
7 of 7
Chef Non-Stick BBQ Grill Mat
Quantity
1
About this item
Our grill mats are made from 100% PFOA-free materials, approved by the FDA for your safety.

Tired of your food sticking to the grill? These mats are 100% non-stick and reusable, ensuring perfect grilling every time.

These are heat-resistant up to 500 degrees, giving you the confidence to cook any recipe to perfection.

They're dishwasher-safe, making cleanup a breeze.

Get ready for delicious meals without the fuss by using our mats that are perfect for any grill, including Char-Broil, Charcoal & Infrared Grills.

Each purchase includes 1 grill mat, ensuring you have everything you need for a successful cookout.
Item description from the seller
As an avid outdoor cook, you know that achieving those perfect grill marks on a juicy, well-seasoned steak is a dream come true. However, it can quickly turn into a nightmare when those marks become black burn marks due to the direct heat of the grill. To make matters worse, the mixture that drips from your steak onto the burning coals creates quite a mess.
But don't worry, there's an easy solution that will take your grilling game to the next level! Say hello to the Reusable Non-stick BBQ Grill Mat - the ultimate grill accessory that will ensure your food is cooked to perfection every time.
With this grill mat, you can grill without any grease or sprays, and it's reusable for years to come. This means you won't have to worry about any small morsels falling through the grates and making a mess. Plus, cleaning up has never been easier - just pop it on the top rack of your dishwasher and you're good to go!
What's more, these barbecue cooking mats are heat resistant up to 500 degrees Fahrenheit, so you can rest assured that they won't burn. Made of technologically advanced, heat-resistant materials, these mats are designed to keep your grill looking brand-new.
It's worth noting that the heat-resistant & non-stick BBQ grill mats are made from 100% PFOA-Free materials with a premium PTFE-Fiberglass coating, and contain no PFOA, silicone, or other dangerous chemicals. These mats are also FDA-approved, so you can trust that they're safe for you and your loved ones.
These are versatile and perfect for any grill, including Char-Broil, Weber, Porcelain, Charcoal, and even Infrared Grills. You can even cut them to fit your specific grill or oven perfectly. Grill meats, vegetables, fish, shrimp, pizza, and even pancakes, bacon, and eggs! They're perfect for those nasty campground or park grills too.
Overall, the Reusable Non-stick BBQ Grill Mat is a must-have for any outdoor cooking party. You'll get those desirable grill marks on your food without the mess, and cleaning up will be a breeze. Plus, with a lifetime warranty, you can be sure that you're making a wise investment.