1 of 6
2 of 6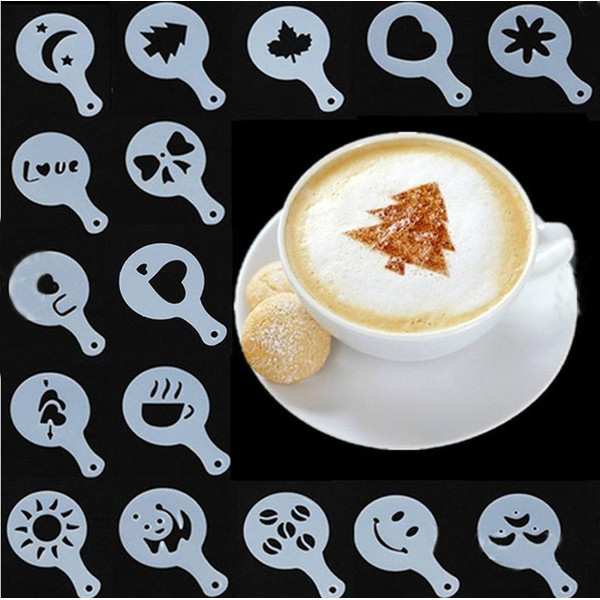 3 of 6
4 of 6
5 of 6
6 of 6
Coffee Barista Art Stencils
Quantity
1
About this item
Material: Plastic
16 stencils for coffee decoration 
Easy to use for beginner baristas; add patterns with any powder
Decorate all your drinks from milk to mocha or tea
Coffee stencils for every occasion (Valentine, Birthday, Christmas, etc.)
Patterns: Heart, leaf, smiley, tree, moon, cup, sun, panda, etc.
Item description from the seller
You love those trendy foam designs, called latte art, that Coffee Baristas are so well known for.
Looking at your coffee cup every time with a new foamy shape, you can't help but adore and love it.
You must have wanted to try those love signs, smiley emoji, and other cool coffee art but failed to do so. Not Anymore! 
Now you can give your own espresso or coffee drink a more delicious and attractive look using these16 different and delightful Coffee Barista Art Stencil designs.
Our latte art stencils are made especially to bump your favorite drinks to the next level and give them more eye-catching appeal. Enjoy your own delicious and pleasantly fancy drinks right in the comfort of your own home! 
Use cocoa powder, cinnamon, or green tea with these decorating stencils to make them barista approved.
What you'll get:
Range of different patterns: Each latte art utensil has a different shape to give your espresso, hot chocolate, milk or cappuccino coffee a new cafe style art every day. One set includes 16 stencils like love, heart, leaf, sun, smiley, panda, i love you, moon, Christmas tree, etc.

Pro coffee foam art: Now you can get the coffee art right in one go with our easy to use coffee decoration stencil set. Make barista coffee designs at your home with just the sprinkle over the plastic pattern.

Cute activity for your kids: Get these coffee art stencils for your little one who loves to cook and create pro dishes. Or turn your holiday into a family fun time by giving one art pattern to everyone around. Don't forget to rate who got it done in the first attempt. ;p