1 of 6
2 of 6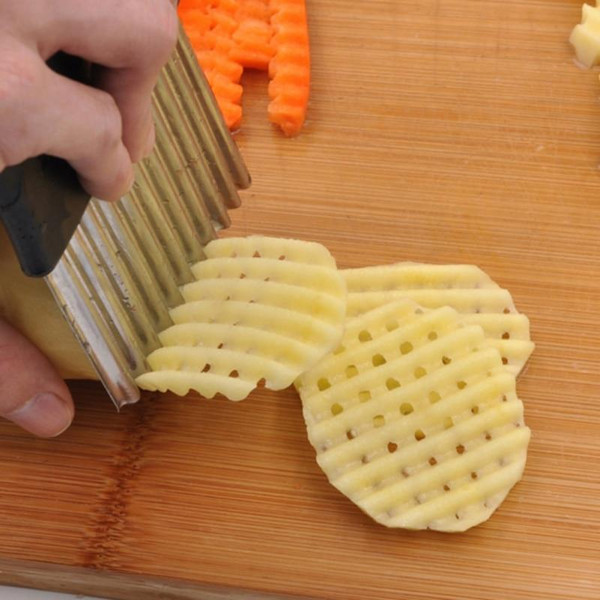 3 of 6
4 of 6
5 of 6
6 of 6
Video
Handheld French Fry Chopper
Quantity
1
About this item
Say goodbye to rusty potato cutters with our top-notch PP and stainless steel chip cutter! Experience hassle-free and hygienic food preparation in seconds.

Elevate your dish presentation with the waffle slicer's super wavy and sharp blade. Impress your guests with evenly sliced fruits and veggies every time.

Tired of spending hours in the kitchen? This time-saving tool will make food prep a breeze! Cut down on effort and enjoy more time with loved ones.
Item description from the seller
If you're a french fry fanatic, you'll love our handheld Wavy Potato Cutter! It's the perfect tool for creating crinkle-cut fries that look as good as they taste.
Crafted with a specially designed wave-shaped blade, our cutter effortlessly slices through potatoes, leaving behind flawlessly crinkled lines that will make your fries stand out. But that's not all - the tall and wide slicing knife can accommodate almost all fruits and vegetables, from pears and apples to cucumbers and carrots.
Our wavy potato cutter is not only easy to use but also durable, thanks to its strong and sharp blade made of PP and stainless steel. Plus, it's not just limited to making fries. You can also use it to make fancy edges and waffle cuts on various fruits and vegetables for a more impressive presentation.
The best part about our Wavy Potato Cutter is that it makes cooking at home fun! With its angled design, it provides increased leverage, so you can chop through potatoes and other veggies with ease. And because it's handheld, you have complete control over the size and shape of your cuts.
It's a great tool to use for family dinners or when hosting guests. Impress them with your homemade, healthier potato chips, cucumber slices or vegetables. With our Wavy Potato Cutter, you can enjoy the satisfaction of creating delicious meals from scratch while also adding a touch of creativity and artistry to your dishes.
At 14 x 9.5 cm, this cutter is the perfect size for everyday use, and it's incredibly easy to clean. Simply rinse it under running water or toss it in the dishwasher, and you're done!
So why not add some fun to your food prep and make cooking at home a breeze with our product? It's a versatile and practical tool that's perfect for any home cook or aspiring chef.