1 of 6
2 of 6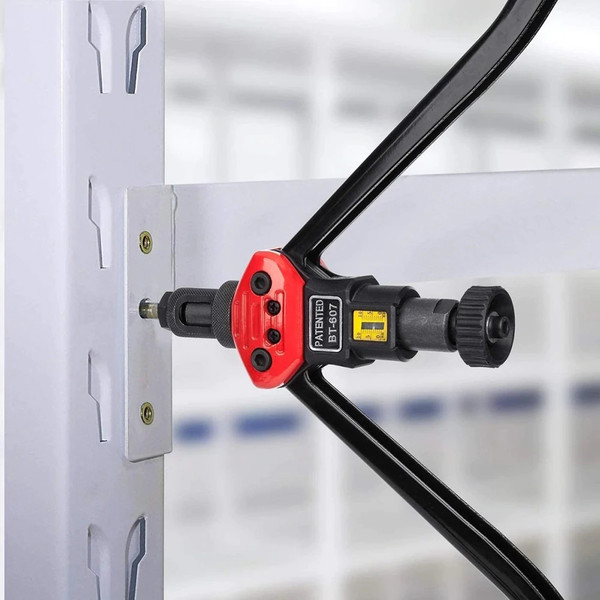 3 of 6
4 of 6
5 of 6
6 of 6
Video
DIY Easy Automatic Rivet Tool Set
Quantity
1
About this item
The riveting operation has never been easier with our tool - it's practically effortless!

Say goodbye to hand fatigue with this ergonomic rubber handle that ensures a comfortable grip.

Perfect for metal fabrication enthusiasts, it is designed to meet all your needs and expectations.

This tool is made of durable alloy steel to ensure longevity and efficient performance.

Create threaded holes for M3-M12 fixings with ease and precision using our top-of-the-line tool.

Do tightening and loosening task easily with the user-friendly design of this tool.

This rivet tool set comes with a set of 11 mandrels to accommodate all your riveting needs.
Item description from the seller
This automatic rivet tool set makes installing permanent joints in your cars, sheets, and fixtures a breeze, and it's definitely worth considering if you're looking for enhanced comfort and convenience.
One of the best things about this tool set is its design. The long handles reduce the amount of effort required to install the rivets, and the easy-to-hold nut base ensures a speedy operation. Plus, the twisting cap makes it easy to loosen and tighten the rivet as needed.
Another great feature is the quality material used to make this tool set. It's constructed with state-of-the-art alloy steel, which is not only sturdy but also durable. The rubberized handles provide added comfort and grip during use, making it easier to work with for extended periods of time.
This hand-operated device can install rivets between M3 to M12 holes, making it suitable for a range of heavy-duty uses, including metal fabrication and car modification. It's also built to last, thanks to the 3/25"(3mm) high-strength carbon steel handles and 11 interchangeable mandrels that come with the set.
This tool set is compatible with 7 American Standard Threads M3 M4 M5 M6 M8 interchangeable mandrel/nose bridge kits in various sizes along with 4 SAE mandrels, which makes it versatile and adaptable for a variety of projects.