1 of 6
2 of 6
3 of 6
4 of 6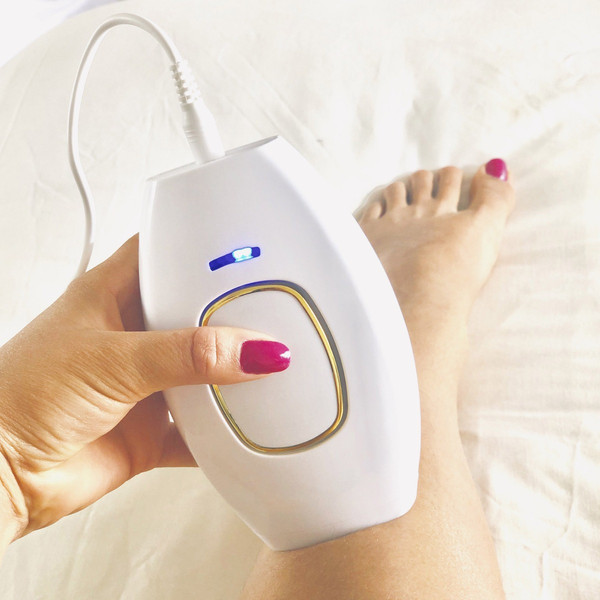 5 of 6
6 of 6
Video
IPL Laser Hair Removal Handset System
Quantity
1
About this item
Shaving Parties Are Over - No more scheduling your shaving sessions around social events. Always be ready for a night out with smooth, hair-free skin
Goodbye to Hair, Hello to Lustrous Skin - Limits hair growth with sharp light bursts, resulting in lustrous skin for years to come
Get Your Smooth On - No more razor burns, cuts, and ingrown hairs
Safe for Everyone - Clinically proven to be completely safe with no side effects and can be used on all skin types (except the darkest).
Personalized Hair Removal - Featuring 5 light intensity levels, you can customize the treatment to fit your hair growth rate
Bye-Bye Expensive Salon Treatments - Ditch the costly laser treatments and get the same results from the comfort of your own home. Plus, with its 10+ year lifespan, you'll save more money in the long run!
Item description from the seller
Looking for a hair removal solution that's pain-free, easy to use, and won't break the bank? Say hello to the IPL Laser Hair Removal Handset System!
This compact, at-home device uses sharp light pulses to weaken hair at the root and keep it from growing back.
With 5 adjustable light intensity levels and a long lifespan of up to 10 years, this device is safe for all skin types and suitable for both men and women.
Simply plug it in and enjoy easy and fast operation with just one button. Get your hands on this compact device for flawless skin today!
Say goodbye to skin irritation and ingrown hairs:
Using our IPL Laser Hair Removal Handset, you can say goodbye to irritation, redness, and even painful ingrown hairs associated with shaving and waxing.
Save Money in the Long Run:
With our IPL Laser Hair Removal Handset, you won't have to make regular appointments or purchase additional products, making it a cost-effective solution for hair removal.
Long-Lasting Operation:
This IPL handset allows up to 300,000 flashes (10+ years lifespan).
Charging-Free:
No batteries or charging required. Simply plug in the device to begin the treatment.
Package Includes
IPL Hair Remover, Power Supply, User Manua
Usage:
It can be used on any body part, including the face, legs, arms, and the Brazilian.

Locate the IPL laser Hair Removal Handset on the target area and press the button to generate a pulse of light that weakens the hair follicle roots. While using near eyes, wear sunglasses.

Advised usage is once a week for the first 12 weeks before you start seeing visible results.

After this, use it once a month for 3 months or until satisfied.

To maintain hairless, smooth skin, use this once every 2 to 3 months or as needed.