1 of 13
2 of 13
3 of 13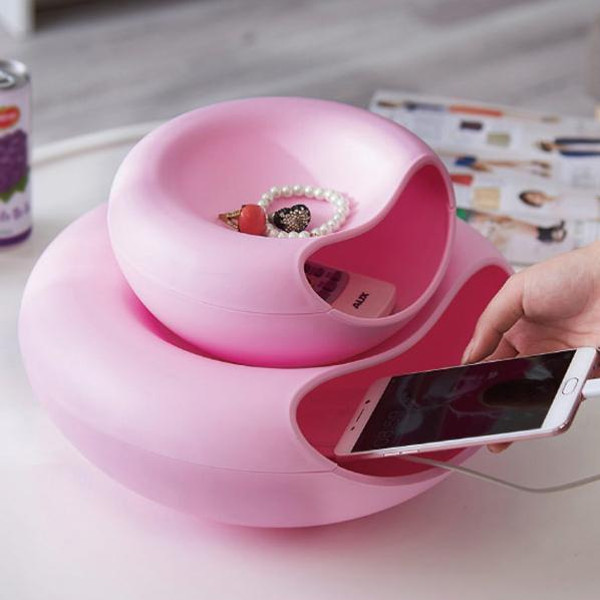 4 of 13
5 of 13
6 of 13
7 of 13
8 of 13
9 of 13
10 of 13
11 of 13
12 of 13
13 of 13

Plastic Pistachio Nut Bowl
Quantity
1
About this item
Useful for filling dry fruits
Decorative yet functional, easy-to-clean
Colors: black, blue, pink, or green
Material: Eco-friendly, food-grade plastic
Durable, waterproof & non-toxic
Item description from the seller
Pistachios are delicious but they have a problem; you just can't stop eating them.
And with continuous eating comes the heap of shells for which you need an extra container.
Not anymore.
We have the Pistachio nut bowl which includes two compartments, one for the pistachios and one for the shell storage. So, next time you get yourself a bag full of pistachios or other nuts while watching a movie, don't bring two dishes with you.
What you'll get:
Two compartments for storage: The upper dish holds the food content which could be anything from pistachios, almonds, candies, peanuts, while the lower compartment is where the shells will go. You can also use the upper dish for food everyone can have and the lower one that only you can :p.

Multi-purpose bowl: The pistachio bowl is not only meant for food. You can use it to store paper clips, thumbtacks, notepads, stationary or keys. Assign the top story to something that you need every day like keys or watch and the lower one for occasional stuff like ballpoints, pocket knife, glue or nail cutter.

A perfect décor item: This unusual pistachio pedestal can also become an eye-catching, contemporary décor item in any room of your house. You can put flowers, succulents, beaded necklaces or potpourri in it.

Mobile phone support for extended fun: The indentations on either side of the pistachio nut serving bowl are specially designed so that you can place your cellphone on the bowl and watch your favorite shows while munching at the nuts.