1 of 2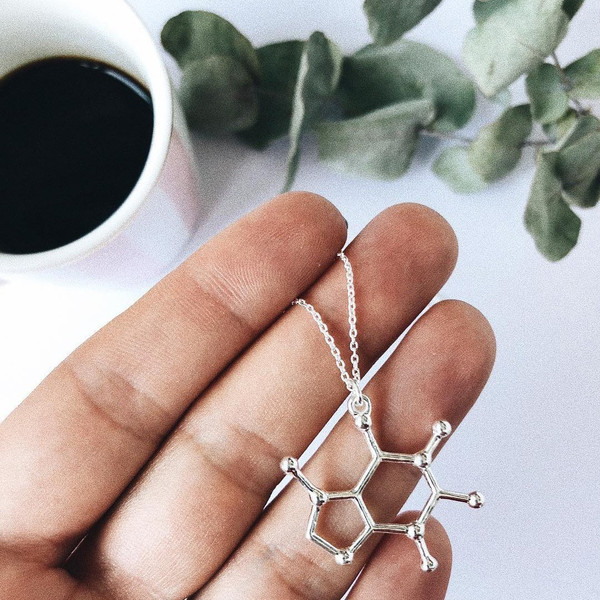 2 of 2
Caffeine Molecule Necklace
Quantity
1
About this item
Made from high-quality alloy and plated metal to resist tarnishing and discoloration.

Unique molecule grafting design for a bold and eye-catching look.

Long and adjustable chain (18 inches) to match any outfit and style.

Durable clasp to securely fasten the necklace in place all day.

Shiny silver finish adds a touch of elegance and sophistication to your wardrobe.
Item description from the seller
Looking for a way to start your day,
With a little something to display,
Our Caffeine Molecule Necklace is here to stay!
It is perfect for coffee lovers and science geeks alike!
Crafted from high-quality alloy metal, this necklace features the molecular structure of caffeine, the chemical compound found in coffee, tea, and soda.
This unique piece is a great conversation starter and a must-have for parties, discussions, and gatherings. Whether you're looking for a gift for a coffee-loving friend, a tea enthusiast, a latte fanatic, or a scientist, our necklace is a versatile option.
The 18" chain is long enough to wear with any outfit, and you can adjust the length to your liking by removing the rings from the chain. The sturdy clasp ensures that the chain won't get loose on extended use, and it will not corrode or blacken thanks to its plated metal construction.
Elevate your everyday style with our Caffeine Molecule Necklace.
Care instructions:
Don't wear the Caffeine Molecule Necklace in the shower, swimming pool or bathtub.

Keep it away from lotions and perfumes while getting prepared. It should be the last thing to wear and the first thing to take off after returning from the event.

Store the matching jewelry with each other like silver plated with silver plated, rose plated with rose plated and so on.

Wipe it gently with a dry, clean cloth after wearing.