1 of 7
2 of 7
3 of 7
4 of 7
5 of 7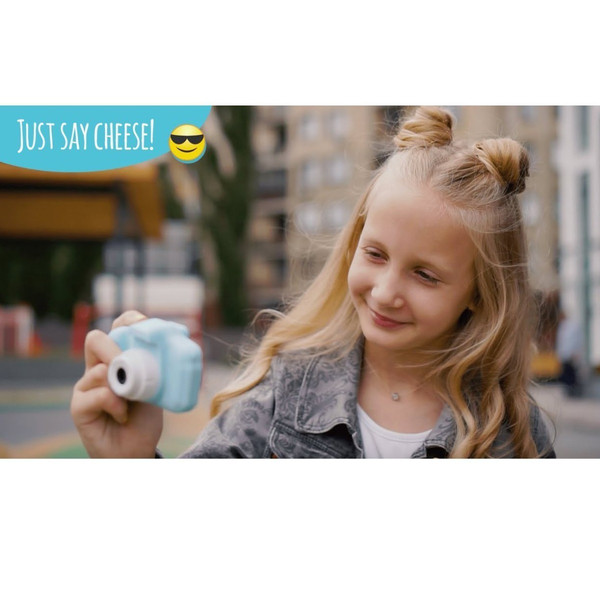 6 of 7
7 of 7
Kid's Camera
Quantity
1
About this item
Capture life's moments with crystal clarity using this 8-megapixel camera, integrated into our device.

View your shots with ease on the 2-inch IPS screen, bringing your memories to life.

Create mini-movies with this 10-second video function, perfect for capturing moving memories.

Add flair to your photos with the included filter and frame effects, creating one-of-a-kind keepsakes.

Export your photos with ease using the included USB cable, sharing your memories with loved ones.

Zoom in and capture every detail with the 4x digital zoom, ensuring no detail is left behind.

Keep your device safe with the shock-proof silicone body, ready for all of life's adventures.
Item description from the seller
Want to introduce your child to the world of photography? If so, this kid's camera will be the best option for you. With its intuitive design and easy-to-use functions, it's the perfect tool to ignite your little one's artistic imagination and instill a lifelong love for capturing special moments.
This digital camera for kids is an ideal gift for parents looking to steer their children away from excessive screen time and into the world of creative expression.
It is built with durability in mind, so you can rest assured that it's shockproof and safe for children of all ages. Plus, the protective shell adds an extra layer of protection, ensuring that the camera can withstand even the most curious and adventurous little hands.
The camera's lightweight design makes it easy for children to carry around, so they can capture their favorite moments no matter where they are.
Top Features:
This 8-megapixel camera is ideal for kids who love to capture their surroundings. It's not just about still photos, but the walking, talking memories that your child will treasure for years to come.
This 2-inch IPS, full high definition screen displays your child's photos and videos in clear, realistic colors that are sure to amaze them. It's like seeing the world through their own eyes!
It is designed to be easy to use, with buttons that are easy to press and understand, giving even the youngest children the ability to take their own photos just like a pro! Plus, exporting and printing photos is a breeze using the included USB - just like Mom and Dad's camera.
*Package Includes - Digital Camera and a USB Cable