1 of 4
2 of 4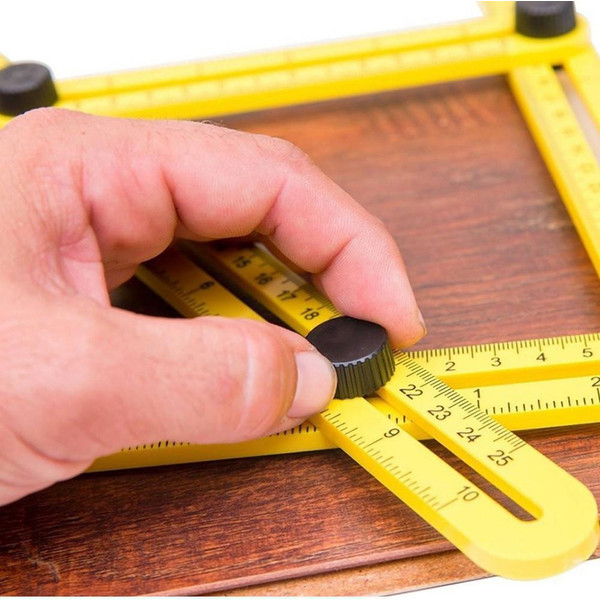 3 of 4
4 of 4
Multi-Angle Template Hand Tool
Quantity
1
About this item
Accuracy is key when it comes to measuring. That's why this multi-angle template designed to give accurate measurements, every time.

Looking for a tool that can withstand tough conditions? This gadget is made with durable materials to ensure long-lasting use.

Perfect for woodworkers and wall-makers alike, this tool is built to handle any job you throw its way.

Measuring angles just got easier with this 4 rulers for accurate multi-angle hand measurements. Perfect for precise projects.

Say goodbye to the frustration of measuring unsquared shapes. This gadget also measures those tricky shapes with ease.

Need a tool that's easy to carry around? This lightweight, multifunctional tool is just what you need for any job, big or small.
Item description from the seller
If you're a carpenter, tile layer, brick mason, joiner, boat builder, woodworker, metal worker, trade professional, handyman, or DIY home user, you know how challenging it can be to get accurate and precise angle cuts.

But with this multi-angle template hand tool, you can say goodbye to those struggles and hello to perfect cuts that fit like a glove.
This tool allows you to measure tricky angles in seconds, making it a breeze to scribe or mark out multi-step or multi-angle cuts just like a pro. Whether you're working on roofing angle cuts, deck miter joints, tile angle cuts, or floor angled joints, this gadget has got you covered. In fact, you name the angle, and this tool will scribe it!
What's great about this tool is that it's not just limited to angles. You can also use it for scribing object shapes and cutting bricks, paving stones, and trim scribe angles. It's a versatile addition to your tool kit that will make your job so much easier and efficient.
This tooll is incredibly easy to use, and its precisely measured cuts will leave you feeling like a pro. It's no wonder that carpenters, tile layers, brick masons, joiners, boat builders, woodworkers, metal workers, trade professionals, handymen, and DIY home users all love this tool. It's a must-have for anyone looking to take their work to the next level.