1 of 10
2 of 10
3 of 10
4 of 10
5 of 10
6 of 10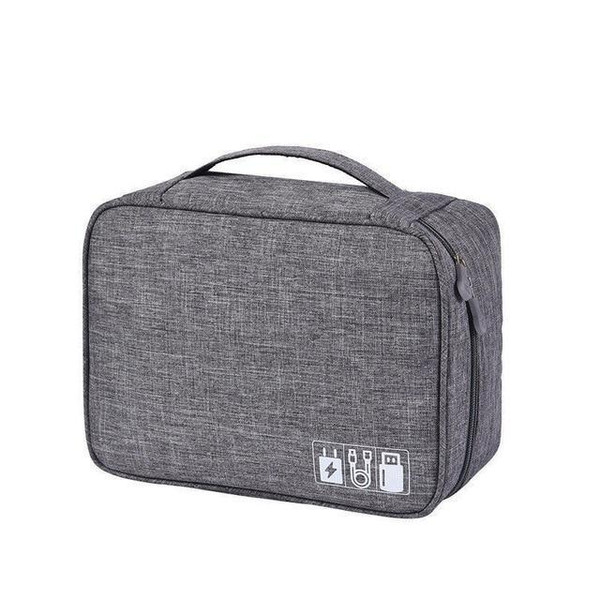 7 of 10
8 of 10
9 of 10
10 of 10
Tech Travel Organizer Bag
Quantity
1
About this item
Tech travel bag
Made of IP4 material
Single solution for keeping all your tech accessories
5 stretchy-mesh pockets & 3 compartments
Durable, water repellant, and washable
Perfect gift for techies who travel a lot
Size (Outer Dimensions): 245 x 180 x 100 mm approx.
Item description from the seller
Organize your electronics accessories, organize your life!

Ignore all the cable or charging wires hassle, missing of headphones, adapter displacement, or batteries misplacement with our handy tech travel organizer bag.
If you're a vlogger, YouTuber, or someone who's always on the go for business meetings, you'll instantly fall in love with the versatility of this tech pouch organizer.

Navigate your tech accessories easily without having to mess up your whole packing while traveling or even at home. It can hold your charger, earbuds, batteries, cables, phone wires, headphones, memory cards, adapters, small projectors, and so much more! Yes, it is that spacious.

Choose from vibrant colors to flaunt your unique yet functional electronics bag on the trip.
What you'll get:
Minimalist yet versatile design: The tech travel organizer bag features multiple pockets as well as 5 slots to hold your smaller items. But it's not dull at all and is crafted of high-quality materials, giving this tech organizer a modern and luxurious touch.

Ideal for traveling with gadgets: The perfect travel case organizer for all your electronics accessories, this bag has a roomy interior that provides secure storage space while preventing scuffs and scratches. Use this universal travel case for storing and protecting all of your valuable, small electronics, power cords and adapters, chargers, earphones, memory cards, etc.

Convenient to carry: Depending on your particular needs, the interior of this exclusive travel organizer pouch can be adjusted, while the stretchy-mesh pockets keep all of your small things neatly arranged and conveniently available at a glance.

Perfect gift: Our small tech bag organizer is a thoughtful and useful gift for men and women that love modern and practical products.

Waterproof built: This tech accessory bag is manufactured with IP4 material and is water repellent, washable and durable so your devices and accessories stay protected and secure.