1 of 4
2 of 4
3 of 4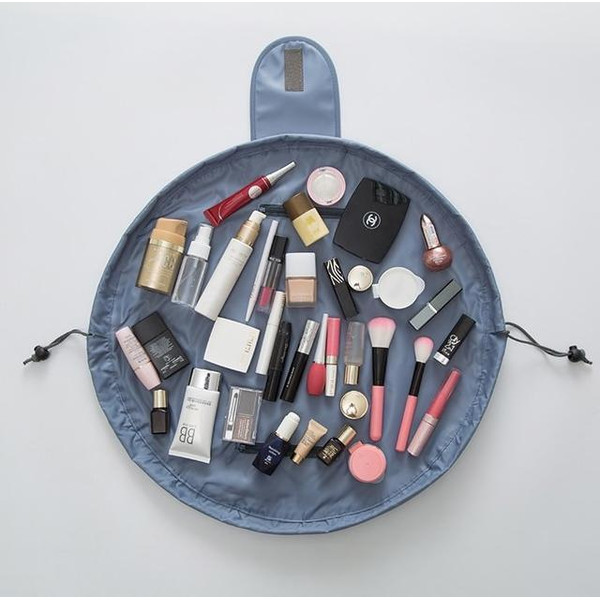 4 of 4
Travel Make Up Wrap Bag
Quantity
1
About this item
Clean up your makeup mess in seconds with our easy-to-use organizer.

Portable design allows you to carry all your essential makeup products with you wherever you go.

Machine washable and wipeable, making it easy to keep your organizer clean and looking new.

With our organizer, you can do your makeup anywhere - whether you're at home, on the go, or traveling.
Item description from the seller
Our Travel Makeup Wrap Bag is the perfect solution for anyone who's tired of rummaging through a messy makeup bag just to find their favorite lipstick.
With this travel makeup wrap bag (22"), you can easily see all your cosmetics at once and clean up in seconds - no more searching through a traditional black hole makeup bag! The raised lip design keeps your makeup and brushes in place and prevents them from rolling off the counter, ensuring that your items stay organized and secure.
Plus, it's both machine washable and wipeable, so you can say goodbye to broken eyeshadow and spilled foundation. Whether you're at home or on the go, all you need is a clean, dry surface to do your daily makeup routine. The drawstring cord makes it easy to cinch the bag closed and take it with you wherever you go - it's a clean surface, quick cleanup, carryall, and storage solution all in one!
And with a variety of colors to choose from - including Pink, Nude, Black, Gray, and Cyan - you're sure to find the perfect match for your style. Experience the convenience and ease of our Travel Makeup Wrap Bag today, and say goodbye to messy makeup bags forever!