1 of 7
2 of 7
3 of 7
4 of 7
5 of 7
6 of 7
7 of 7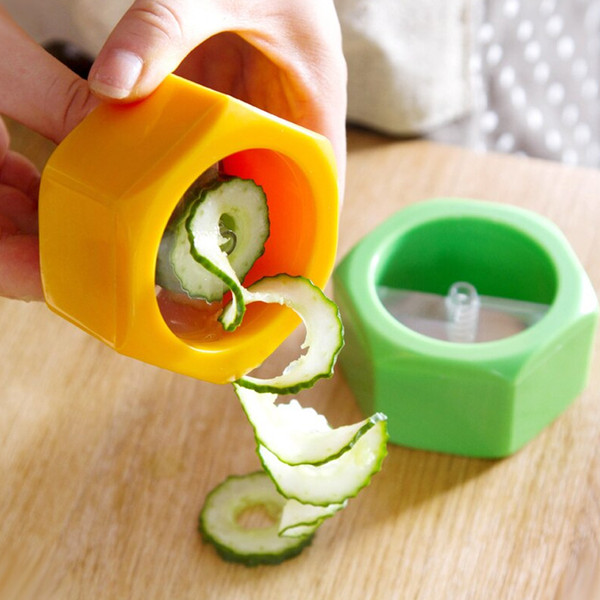 Zucchini and Cucumber Spiral Slicer
Quantity
1
About this item
Material: Plastic + PP
It can be used as a fruit and vegetable spiralizer
Innovative kitchen tool
Transparent polycarbonate blade
Safe and convenient
Make kids eat healthily
Item description from the seller
Making our kids eat healthily is undoubtedly one of the hardest things to do for every parent.
Have you ever thought about why they are always inclined to eat those yummy-looking burgers, noodles, and pizzas?
Because they look delicious, eye-pleasing, mouth-watering, and tempting!
While on the other hand, our veggies display an epic picture of a lifeless soul on the plate. So, if you want your kids to eat healthy meals, salads, and all the good stuff, you have to make them look appealing.
Of course, that isn't as easy as it sounds. But you also don't need to Google all the Masterchef seasons to learn how to plate because we have got the best thing for you, our zucchini and cucumber spiral slicer!
Want spiral potato chips? Toss the spiral cucumber in the oven.
Craving spaghetti? Swap it with zucchini noodles by slicing the spiral into a thin form.
Now you know how to make them eat all that good stuff. :p
What you'll get:
Quick spiral cut: The transparent polycarbonate blades will let you cut the tempting vegetable spirals you saw in that fancy restaurant's salad in no time. All you have to do is just push the fruit or vegetable in the direction of the cucumber slicer for thin and tender spirals.

Highly safe: The vegetable spiralizer is designed with an embedded cutting edge on the inside for your convenience so that you don't have to put much effort into using the knife to prepare a fancy meal. Your hands won't touch the sharp blade at any time.

Environment-friendly material: The ABS used for making the handy kitchen vegetable spiral slicer is non-toxic or harmful to the environment.