1 of 3
2 of 3
3 of 3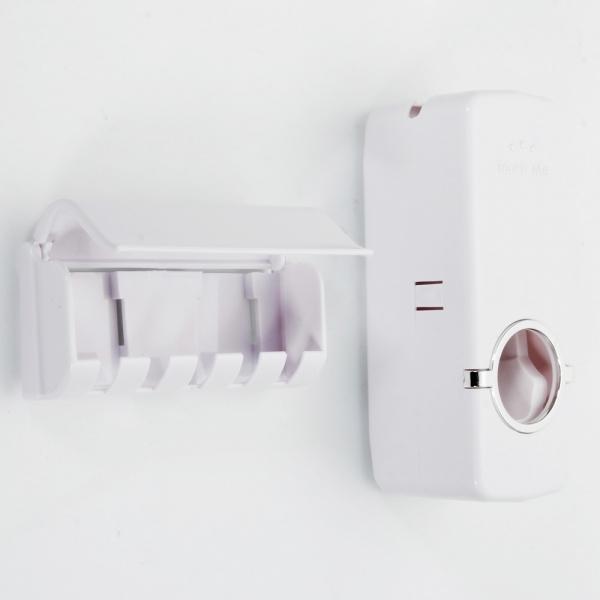 Automatic Toothpaste Dispenser Set With Toothbrush Caddy & Toothpaste Holder
Quantity
1
About this item
Crafted from durable, flexible plastic for long-lasting use.

Eliminate toothpaste waste and maintain hygiene with this germ-free dispenser.

Dustproof design eradicates 99.9% of bacteria for a healthier environment.

Family-sized toothbrush holder keeps everyone's brushes organized.

No electricity needed, making it eco-friendly and cost-effective.

Hassle-free installation with complimentary adhesive tape included.

Sleek, elegant white color to seamlessly blend with any bathroom decor.
Item description from the seller
This automatic toothpaste dispenser set is a must-have addition to your bathroom. This innovative product combines convenience, hygiene and cost-effectiveness to give you an unparalleled tooth brushing experience.
Made from high-quality plastic, this set features a unique toothpaste caddy that ejects the perfect amount of toothpaste with just one touch. Say goodbye to messy and wasteful squeezing techniques that can result in toothpaste oozing out in all directions. Instead, enjoy a clean and effortless brushing experience that saves both time and money.
The set also includes a five-toothbrush holder that comes with a protective lid to safeguard your toothbrushes from dust, germs and other unsanitary materials. With up to 99.9% of harmful germs eliminated, you can enjoy a fresh and clean brushing experience every time.
Installation is a breeze thanks to the double-sided adhesive tape that is included with the set. Simply clean and dry the wall before attaching the dispenser and holder to the wall. This will not only save you counter space but will also provide a clean and organized look to your bathroom.